Benefits
Our people are really important to us. That's why we strive to provide a happy and healthy working environment that enables everyone to do their best, develop themselves and enjoy their lives at work.
Remote first Culture
Net Affinity operate and actively promote a 'Remote First' culture for all the benefits that accrue for both staff and company.
This is very much about improving the work life balance for all of us. It's about being kinder to ourselves, our partners and families.
Remote First helps us develop further as an empathetic business. One that maintains a work culture that is inclusive and respectful whilst embracing our differences and individuality.
TGIF
On Fridays we finish up a little early to help you get the weekend started!
B-day bonuses
We want you to celebrate your own birthday and your work birthday, so for each of them, we give everyone a half day's leave.
Baby bonus
Being a parent is challenging and rewarding – to help you take on the challenge and enjoy the rewards, we'll give you an additional 5 days annual leave to spend with your new bundle of joy. We'll also treat you to €500 worth of vouchers to help buy all those baby essentials.
Wedding bonus
We want you to enjoy every moment of this special time with your loved ones. So to help you prepare for your special day, we'll give you an additional 3 days annual leave.
Loyalty reward
We love loyalty. That's why for every year you're with us, we reward you with additional annual leave days.
Refreshments
Snacks and treats help to keep your brain working and your body happy, so we have fresh fruit, juice, gourmet coffee, organic herbal teas and bread available throughout the week.
Social life
Pizza Friday
The last Friday of the month is for pizza, beers, tunes and pool. You deserve to unwind and indulge!
Social events
Our 'Fun Team' are in charge of organising regular activities for us all to do together! Whether it's after work food, drinks or team building adventures, our calendar always includes a good dose of fun.
The parties
Our Christmas and summer parties are practically famous at this stage. Usually themed, held somewhere we've never been before and an excuse to party the night away!
Giving back
Giving back is important to us as individuals and as a company. Every month, we have a charity breakfast where we pick a different cause that's close to our hearts, have a delicious communal brekkie and donate generously. Smiles all round!
Training
We're committed to always helping our people with their professional growth and development. This means regular training, opportunities to upskill and performance reviews – we know career growth is essential to a positive, encouraging work environment.
We work with each person on analysing their own personal training needs, and we encourage a mixture of programmes including cross-departmental, learning and refresher courses. We use an exciting variety of resources for individual and team upskilling, and we regularly attend external training sessions from global thought leaders like of Google and Hubspot!
Set your goals – we'll help you do the rest.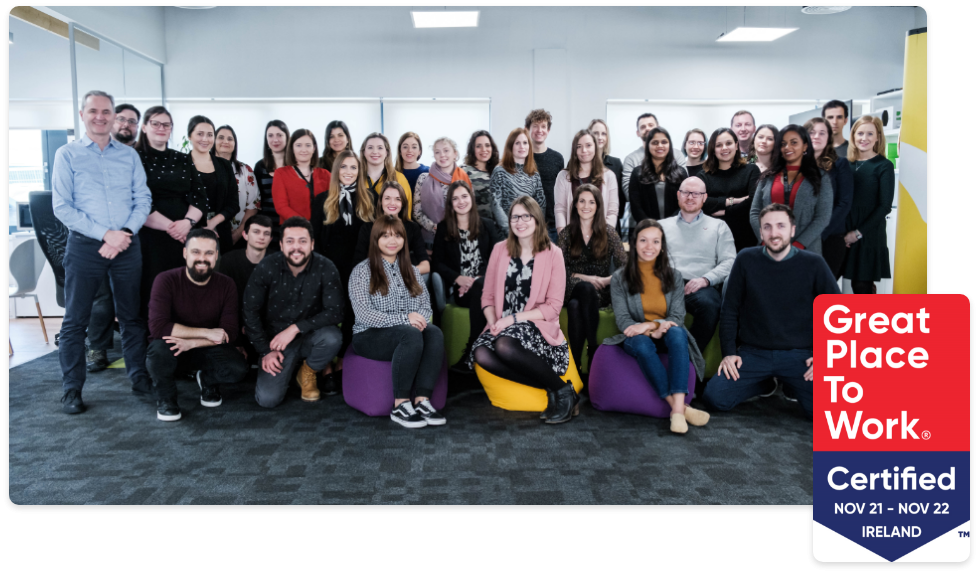 We're certified as a Great Place to Work!
At Net Affinity, we're delighted to be certified as a Great Place to Work! Our staff are the heart of our business, and we place great importance on their happiness.
"I cannot overstate the importance we place upon creating and nurturing an empathetic culture – one of trust and respect that empowers everyone to have a better work-life balance. It is something we never take for granted and our goal is to always retain and continually attract top talent. We are very lucky to have such a first-rate team."
William Cotter, MD of Net Affinity
Empathy is at the forefront of everything we do as a company. We strive to maintain an empathetic culture that mirrors our values as people who want to care for each other and provide a supportive environment to flourish in. When are staff are happy, so are our clients. Win win!