Available Roles
Technical Marketing Specialist
IWe are looking for a Technical Marketing Specialist to join our growing team. If you are a tech-savvy professional and have experience in digital marketing and tracking implementation, we would like to meet you.
Our ideal candidate can manage and progress the technical marketing requirements for our client portfolio. You will work alongside our team of Marketing specialists and onboarding teams, managing the data ecosystem using a range of tools and integrations.
You will report to our Digital Marketing Services Manager and will have direct support to develop your professional skills.
We are looking for someone with 2-3 years' experience, someone who is comfortable working in a fast-paced environment.
As a Technical Marketing Specialist your main responsibilities will be:
Tracking set up, management and Configuration across GTM | Google Analytics | Google ads | Social
Set up and Maintenance of client marketing reports using Google Data Studio
Account Set up + Billing Management – Google Ads | Social etc
Technical SEO audits for new client onboarding
Go live + Post live checklists
Google hotel ads set up + feed management
Cookie Bot / GDPR Support
Day to day tracking troubleshooting + Investigation
Tracking Quality monitoring
GTM + Tracking Audits
GA4 Analytics Upgrades + Reporting updates as required
Must haves
Min 2 year's experience in website analytics
Min 1 year's exposure to digital marketing – PPC | Social
Min 1 year Google Tag Manager experience
Strong communicator
Numerically literate
Nice to haves
SEO Experience
Client Marketing Experience
Client Management experience
Knowledge of or experience in the hospitality industry
HubSpot
Who we are
A team of creative experts, leading the field of hotel technology since 2000
Paying market rate salary with great benefits
Dedicated to continual development and professional growth of our team.
Job type
Full-time, Permanent
Salary
€35,000.00-€40,000.00 per year
Benefits
Additional leave
Company events
Company pension
Flexible schedule
Sick pay
Wellness program
Work from home
Schedule
Monday to Friday
Experience
Digital marketing: 1 year (preferred)
Google Tag Manager: 1 year (preferred)
Website analytics: 2 years (preferred)
Remote working?
Yes
Apply Now
Scrum Master
The Role
Net Affinity are looking for a Scrum Master to join our cross-functional software development team who work on a range of web-based products.
You'll be our go-to person for applying scrum to produce high-quality work. Scrum Master duties include managing timelines, resolving problems and coaching team members on Agile methodologies.
This is a fully flexible role with the option to work remotely and/or from our headquarters in Dublin.
This is a contract-based role for a period of 12 months.
What you'll be doing
Guiding the team and company on agile best practices
Diligently applying agile best practices within the Scrum Team to maximise efficiency and flexibility
Facilitating daily scrum, sprint planning, sprint review, retrospective meetings and any other meetings within the scrum team.
Fostering a trusting relationship between team members
Facilitating completion of work and achievement of goals without dictating the work
Encouraging discussion and conflict resolution within the team
Actively seeking to remove impediments from the teams' work
Participating in and/or leading decision-making discussions with the product owner and/or lead developer
Shielding the team from outside interference and distractions
Leading by example using a servant-leadership approach
Co-ordinating product releases
Reporting back on team/product progress
Creating and detailing user stories, individual tasks/subtasks and bug reports
Grooming and maintaining the product backlog
Requirements and Qualifications
At least 2+ year's Scrum Master experience in any well-known software environment.
Strong knowledge of Scrum theory, rules and practices.
Good skills to coach a team on how to follow agile scrum.
Understand the fundamentals of iterative and incremental development.
Basic knowledge of software development processes and procedures to understand his team needs.
Knowledge of Atlassian tools like Jira and Confluence.
Business level English with good communication skills.
Bonus Points
Relevant IT/Technical degree
Knowledge of other agile methodologies like Kanban, XP, etc
Certified Scrum Master (CSM) or project management industry qualification
About Net Affinity
Net Affinity is an international award-winning Technology, Design and Marketing Company who works exclusively with hotels to drive more direct business at a lower cost of acquisition with proven online strategies. We pride ourselves on the development of a relationship that allows us to nurture your business and ensure our success is your success.
Benefits
Work from home opportunities
Flexible working hours
Casual dress
Company events & social hours
Apply Now
Benefits
Our people are really important to us. That's why we strive to provide a happy and healthy working environment that enables everyone to do their best, develop themselves and enjoy their lives at work.
Remote first Culture
Net Affinity operate and actively promote a 'Remote First' culture for all the benefits that accrue for both staff and company.
This is very much about improving the work life balance for all of us. It's about being kinder to ourselves, our partners and families.
Remote First helps us develop further as an empathetic business. One that maintains a work culture that is inclusive and respectful whilst embracing our differences and individuality.
TGIF
On Fridays we finish up a little early to help you get the weekend started!
B-day bonuses
We want you to celebrate your own birthday and your work birthday, so for each of them, we give everyone a half day's leave.
Baby bonus
Being a parent is challenging and rewarding – to help you take on the challenge and enjoy the rewards, we'll give you an additional 5 days annual leave to spend with your new bundle of joy. We'll also treat you to €500 worth of vouchers to help buy all those baby essentials.
Wedding bonus
We want you to enjoy every moment of this special time with your loved ones. So to help you prepare for your special day, we'll give you an additional 3 days annual leave.
Loyalty reward
We love loyalty. That's why for every year you're with us, we reward you with additional annual leave days.
Refreshments
Snacks and treats help to keep your brain working and your body happy, so we have fresh fruit, juice, gourmet coffee, organic herbal teas and bread available throughout the week.
Social life
Pizza Friday
The last Friday of the month is for pizza, beers, tunes and pool. You deserve to unwind and indulge!
Social events
Our 'Fun Team' are in charge of organising regular activities for us all to do together! Whether it's after work food, drinks or team building adventures, our calendar always includes a good dose of fun.
The parties
Our Christmas and summer parties are practically famous at this stage. Usually themed, held somewhere we've never been before and an excuse to party the night away!
Giving back
Giving back is important to us as individuals and as a company. Every month, we have a charity breakfast where we pick a different cause that's close to our hearts, have a delicious communal brekkie and donate generously. Smiles all round!
Training
We're committed to always helping our people with their professional growth and development. This means regular training, opportunities to upskill and performance reviews – we know career growth is essential to a positive, encouraging work environment.
We work with each person on analysing their own personal training needs, and we encourage a mixture of programmes including cross-departmental, learning and refresher courses. We use an exciting variety of resources for individual and team upskilling, and we regularly attend external training sessions from global thought leaders like of Google and Hubspot!
Set your goals – we'll help you do the rest.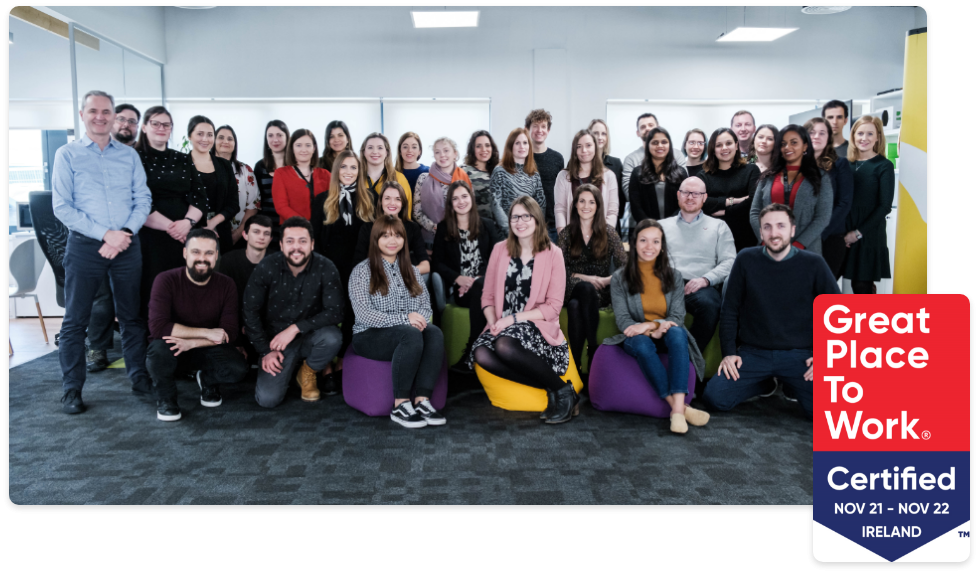 We're certified as a Great Place to Work!
At Net Affinity, we're delighted to be certified as a Great Place to Work! Our staff are the heart of our business, and we place great importance on their happiness.
"I cannot overstate the importance we place upon creating and nurturing an empathetic culture – one of trust and respect that empowers everyone to have a better work-life balance. It is something we never take for granted and our goal is to always retain and continually attract top talent. We are very lucky to have such a first-rate team."
William Cotter, MD of Net Affinity
Empathy is at the forefront of everything we do as a company. We strive to maintain an empathetic culture that mirrors our values as people who want to care for each other and provide a supportive environment to flourish in. When are staff are happy, so are our clients. Win win!